NULL
There are a lot of things to think about when you're starting a new business. Often, it's the small things that people forget to include in their plans and budgets.
It may not seem like it, but items like business cards, letterhead, and envelopes can start to add up and bring costs you might not have anticipated.
I recently worked on a proposal for a new hedge fund that didn't have a great idea of exactly what printed staples and stationery they were going to need and looked to us for guidance on where to start.
It's not the first time I've had that conversation so I thought it would be a good idea to write up a guide for entrepreneurs and small business owners to help with the process, provide some ideas you may not be thinking about, and make sure you cover your bases during your initial planning stages.
Business Cards
Business cards are a basic staple for any business owner. Even the most technical of businesses and business owners need business cards.
Anybody that's been doing it long enough has found themselves in the unfortunate position of meeting someone unexpectedly and not having a card to easily provide contact information for a follow up.
Cell phone and tablet batteries die, and there's still not a great way to easily and quickly share contact info digitally during an in-person meeting.
Not only that, but business cards represent such a minimal investment that there's simply no excuse not to have one.
My advice for your card is either go all out and make it something memorable that will get shared around, or keep it simple and classy. I always opt for the latter: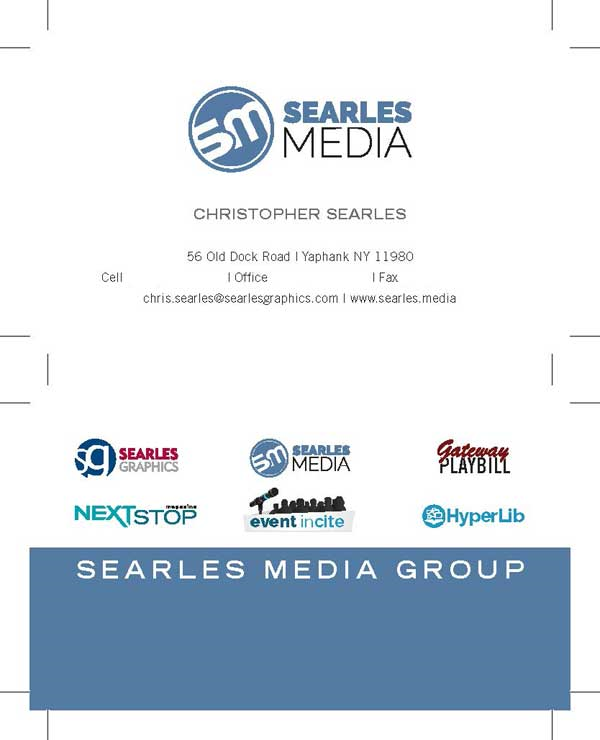 If you're just getting started, it's important to identify the people in your organization that will need a card.
Anybody that has direct client contact or does business development should absolutely have a business card. But that should be obvious.
Don't skimp on the rest of your employees though. My general rule of thumb is if you have a desk, you get a business card.
There's a good reason for this. Imagine for a second you just took a new job with a company or potentially even took a risk to leave a steady job to work for a startup.
Wouldn't it be nice to have a box of shiny new business cards with your name and the company's logo on them?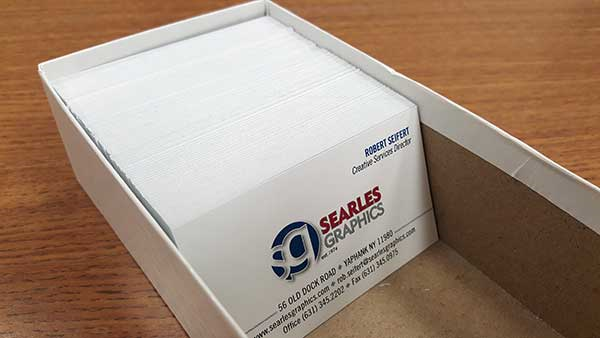 It may seem like a small thing, and it is, but sometimes the little things produce the best results. And the small things do matter.
As far as sourcing business cards, that depends on a number of factors.
First, pay the money to have a professional design your cards. A great option is using the designer that created your logo.
It's a very small investment that makes a very big difference in the long run.
For printing, there are now a number of websites that sell business cards extremely cheap in small quantities.
A simple Google search for terms like "business cards" or "buy business cards online" will yield more options than you'll ever need.

These options are ok if you need 500 of a single card or two and quality isn't your paramount concern.
There have been times when we've purchased business cards online for clients because it was simply the best option for them under the circumstances, but we are always prepared to send back the first set that are delivered (and do in more than 50% of the instances where we go this route), and sometimes even more than that.
If want higher quality or better service, or you simply want to look at paper samples so you know what you're buying, get a price from your local print shop.
Simply Google "[my location] printing companies" and you should get a good list to start with. You want a commercial printer that offers sheet-fed offset or digital printing services.
Higher quantities are where they'll start to be more competitive in price or simply offer you the options or service that you can't get online.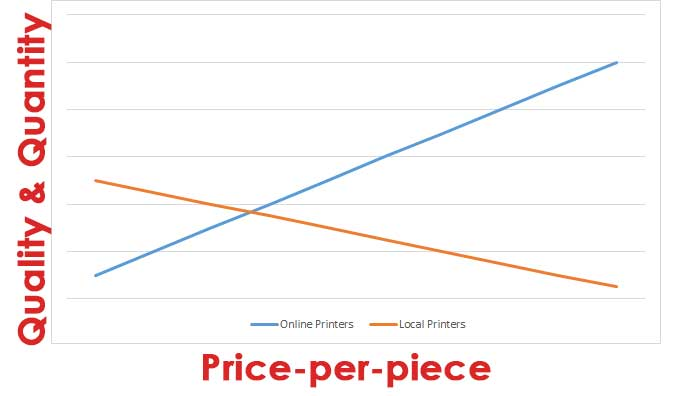 One way to save money when you anticipate needing a large number of cards over a longer period of time (i.e. you frequently have new employees coming in and/or you have others who run out all at different times) is to have your printer run shells and inventory them for you, and then imprint individual cards as needed.
Generally, the way this works is they will run the standard company info that's the same on every card either in 2 or 4-colors on an offset press in a large quantity.
Then, whenever someone in your organization places an order, the printer will simply take a stack of the shells and run them through a digital press in black and white (which is cheaper than color) to imprint the person's name and contact information.

Letterhead
Letterhead is another staple every business needs to be able to pull out of a drawer at a moment's notice.
You probably won't go through nearly as much of it as you used to, but it's amazing how many times you'll get a request for something that has to be "on company letterhead."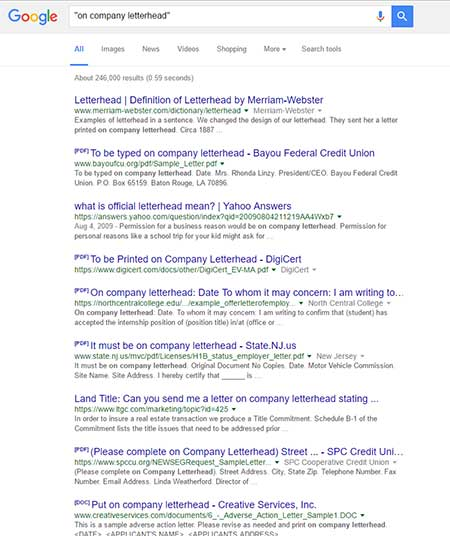 It's also a really nice way to reach out to clients or prospects. There's still something to be said for being able to hold something tangible in your hands (and there's data that shows it actually influences buying decisions quite positively).
You have a lot of the same options with letterhead as you do for your business cards, and my advice is largely the same.
Pay a professional for design, I promise it matters and is well worth the minor investment you need to make.
Price out online and local print shops with the same caveats included in the business card section above.
In general, online is better for short-runs where quality is secondary and you are willing to buy blind. Go local if you want someone to work with you to provide the best solution for you and your business based on their experience.
Neither is the right or wrong option, one is simply better for your business and your unique situation and requirements.
(If you're unsure, reach out to me and I'd be happy to help you make the right call.)
In either case, your designer and your printer (even better if it's the same company!) should work with you to design your piece in a way that's both cost-effective and represents your brand well.
Your design should also be consistent with the rest of your marketing and promotional materials, so it helps to use a single designer for all of these items unless you're in the process of rebranding and are purposely looking for a change.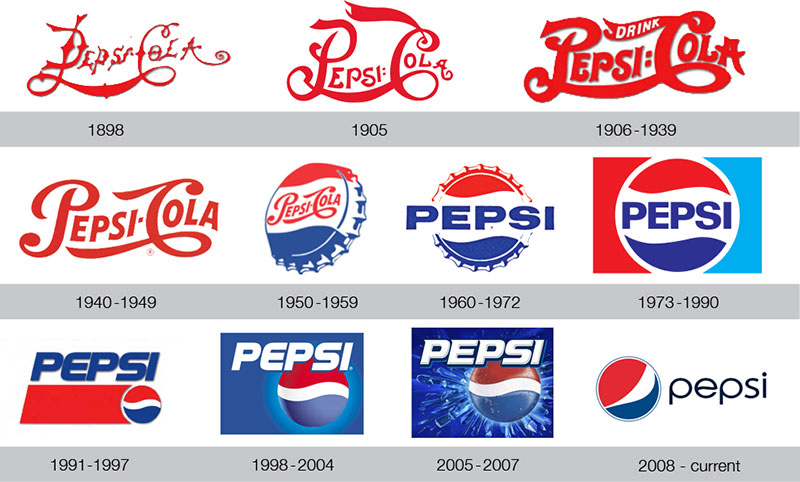 For printing, you have three primary options: One-color, two-color, and four-color. Yes, there are other options but there's most likely no reason to consider any of them for letterhead.
If you're doing a short run, you'll only save money going from four-color to one-color, and only if that one color is black.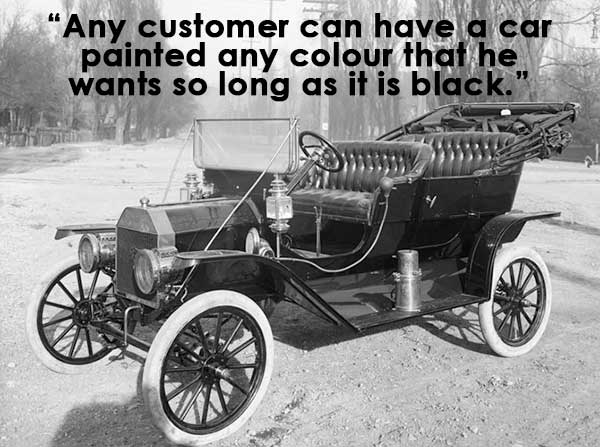 Digital presses (where most short print runs go) only offer price breaks for black ink, everything else prints in full color which costs the printer the same amount as if you put a nice full-color picture on it.
On the other hand, if you're doing a slightly larger run (usually around 1,000 pieces or more), there might be a very large difference between four-color and two- or one-color printing.
Unfortunately there are no hard and fast rules to this and specific breaks are completely dependent on the type of equipment your printing company has.
This is when it's important to discuss your goals with your printer and your designer to ensure you get what you need.
High quality, low price, or something in the middle can all be had, just be open and honest about your needs and your budget and the right partners should be able to accommodate you well.
Envelopes
The world of envelopes is a lot bigger than you probably realize.
They come in an almost incalculable number of sizes, styles, colors, weights, and options.
Square flaps, peel and stick, single window, double window, remittance, #10, #9, A6, A7, A2, bright white, natural white, catalogs, booklets, 24 lb., 60 lb. – coincidentally those last two happen to be the same thing (read this if you want to know why) … the list goes on and on.
So I'm going to simplify it.
Get yourself some non-window #10 envelopes with your logo and return address on them.
#10 envelopes will fit a standard 8.5" x 11" sheet of paper (folded in thirds) and are the most basic, versatile, and oft-used envelope there is.
Once again, you have options for ink colors.
Black is always the cheapest but you can choose a single PMS color that's not black and still save money.
Two-color printing certainly won't break the bank either, usually you would run two brand colors or one PMS color and black (your logo designer did give you a two-color version of your logo, right?).
Four-color envelopes can be had inexpensively at lower quantities (a few thousand or so) where they can run on a digital press instead of a four-color offset press.
Believe it or not, I often prefer a two- or three-color envelope over a four-color because the PMS colors can really pop.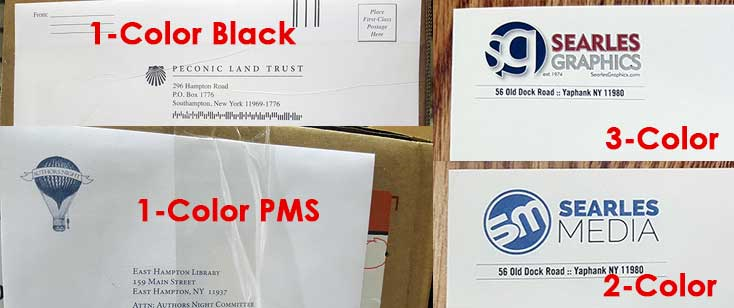 But if your logo is a little more complicated and doesn't translate well to two-color (first, find yourself a new designer, then) spring for the four-color. It's worth the minor increase in cost.
If you're doing long runs, usually it's for a specific purpose like a direct mail piece, at which point you should talk with your designer and your printer about the goals of the piece as well as price differences on color and size options, then decide if it's necessary or worth it to do more than just a black outer envelope.
Beyond a standard #10, you may also want to consider #10 window envelopes.
If you send out a lot of invoices (hopefully you will!), these are nice and easy to just fold up an invoice that already has the customer's name and address on it and pop it in the mail without needing to address the outer envelope.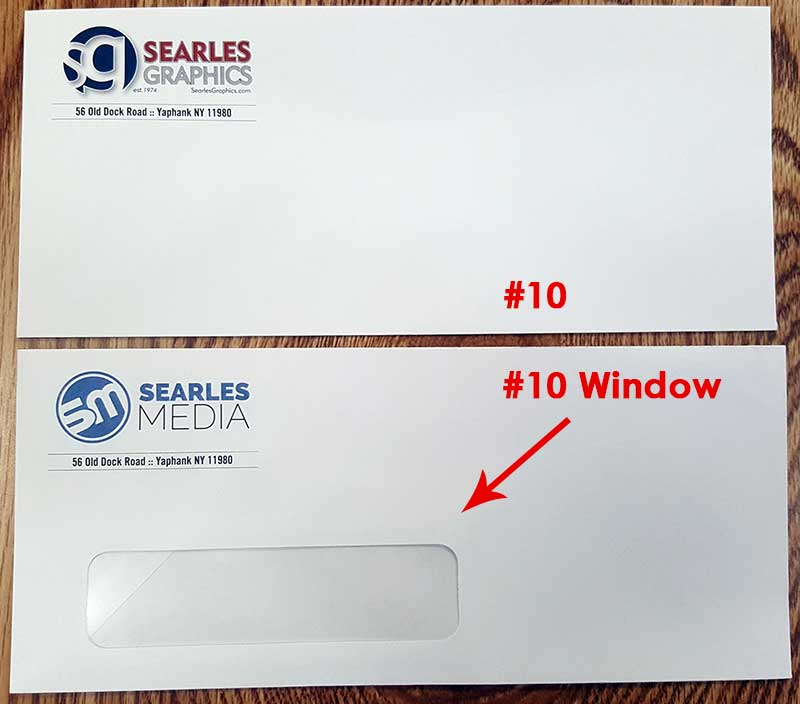 Usually these are the envelopes you'll send checks in, and you likely may not need anything printed on them at all (that's what the windows are for).
Buy them from your printer, if you have a good relationship with them you can take advantage of their buying power and get better pricing than if you just went to Staples or Sam's Club (even after a reasonable markup for their time, handling, and service of course).
Finally, I would consider a larger envelope like a 9" x 12" or 9.5" x 12.5" (which one would depend on your intended use, see the section on pocket folders below for more).
Often, if you're sending marketing materials or other promotional items, the last thing you want to do is fold them up and stuff them in a little envelope.
These envelopes give you the option to send your materials flat, and for the added $1 (or less) in postage, the value you get out of the presentation is well worth it.
All you need to know about these (besides which size you should buy to fit what you're putting inside) is the difference between a catalog and a booklet envelope.
Catalog envelopes open on the short edge, booklets open on the long edge.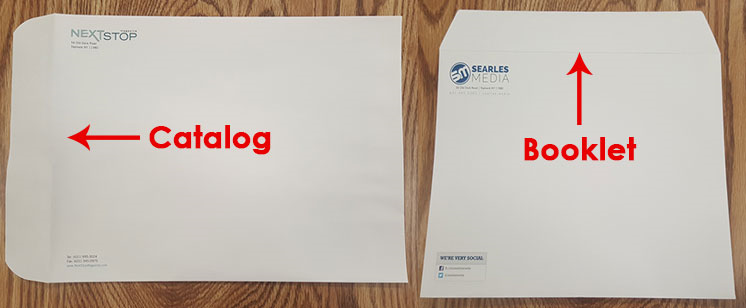 Pocket Folders
These are an option you should consider, but be sure you have a reason to order them before you do.
Pocket folders are a basic print staple of a lot of businesses because of their versatility.
They allow you to change your materials frequently, print out customized proposals for customers, include new brochures you've created since you had the folders printed, and anything else you can't think of right now that you may want to include or use them for in the future.
They're a great way to present contracts, agreements, proposals, etc.
Obviously, if you run a retail store, you may have no need for a pocket folder, but if you have a B2B business or work with large projects where spending a couple dollars on presentation can go a long way towards getting a five or six-figure project, it's a good start.
You have just as many (if not more) options with these as you do with all of your other printing, but a good place to start is a standard 9" x 12" folder with two 4" pockets and a single business card slit.
For professional services, the most common option is a nice, heavy cotton or linen stock with a simple one- or two-color logo in the middle on the front cover.
You can get a lot of legs out of a metallic ink, or if you want to spend a little more money and like the look, a gold or silver foil stamp process. Neither are necessary though.
If you're trying to build a brand, your logo alone may not be enough to really leave a mark so you may want to include a tag-line or some imagery on the folder, just be sure not to make it so busy that the message gets lost in the shuffle.
Notepads
I'm going to let you in on a 40+ year secret here … custom notepads are one of the single best promotional items you'll ever find.
We've used them for decades and they're an amazing way to keep your brand in front of prospects and clients.
Everyone at some point throughout their day or week needs a piece of paper to write on.
That means they sit on top of a desk, on a conference table, at reception, or at arm's reach all the time.
When a note is written, it's kept for a while or passed along to someone else who can't help but see your logo and what you do. Sometimes a single note or message can last weeks in full view every minute of every day.
It's hard to buy that kind of frequency with any other advertising or promotional product; plus there's the added benefit that everybody else isn't doing the same thing.
When it comes to notepads, you don't have to go crazy. Four-color pads are great if you have a need but the same rules as discussed in the envelope section above apply here.
As for paper, 50 lb. offset is all you really need. Anything heavier than that is nice but overkill.
Talk to your local printer or check out CorporateNotepads.com for options.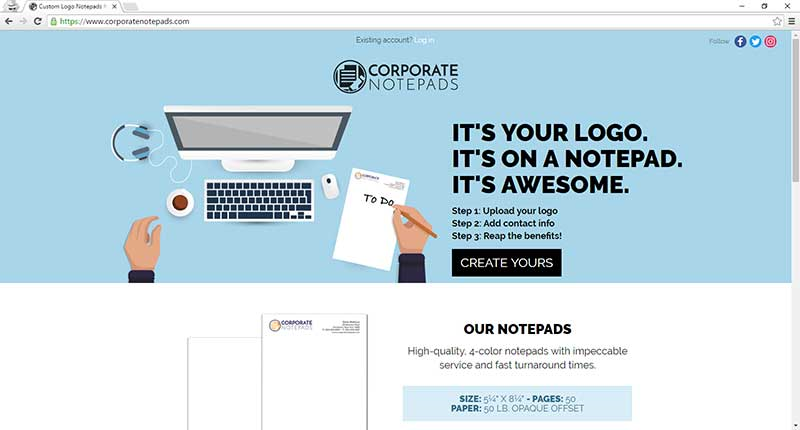 Full disclosure, this is a website we own, but I share it with you because we were able to figure out a way to get the prices crazy low so I figured I'd share it with you because it's worth at least taking a look at.
And there you have it, everything you need to at least get yourself started with your printing needs.
Yes, you will have some unique requirements that I haven't discussed and you'll definitely want more than just the basics shortly, but this is just the beginner's guide!