While it might sound hypocritical coming from a company that routinely separates digital marketing as a service from things like printing, graphic design, and direct mail, treating digital marketing as this separate "thing" that's unrelated to the rest of your marketing activities is a huge mistake.
Yes, we present those services to you in different and deliberate ways, but when we make decisions about how to deliver those messages, it's all about picking something that works, regardless of the medium.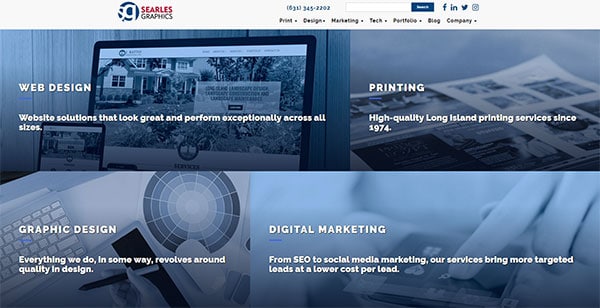 I don't care if I sell digital marketing via a direct mail piece, direct mail via email marketing, or printing via social media.
The truth is, all of those mediums work, and marketing in today's world is about utilizing every tool at your disposal to reach the consumer wherever you're most likely to influence a purchasing decision.
Read: How to Make Pokemon Go Work for Your Business
Marketing is marketing. It doesn't matter what medium you use, the goal is still the same.
There are far too many people out there selling "digital marketing" as the end-all-be-all of marketing solutions in the modern business world.
Take Neil Patel, for instance. While I respect Neil's digital marketing chops immensely, and have even recommended his writing to you in the past, he's absolutely wrong about the future of digital vs print in the near term (even if he's right about self-driving cars as I'll discuss later).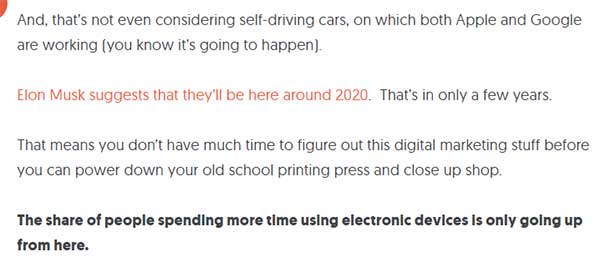 Most digital marketers don't consider other options because they don't understand them, don't know how to buy them, don't know how to measure them properly, or they just know that digital marketing is simply an easier sell right now.
It turns out, this is great news for smart marketers! I've said it before and I'll say it again, great small business marketing takes advantages of inefficient markets, wherever they appear.
Print still works. And while that might change tomorrow, it's a fact today.
See: 10 Completely Free Ways to Promote Your Business
So, even if print media is on it's way out for good, that doesn't mean you can't take advantage of it before it goes away.
Here's a good breakdown for small business owners on marketing and advertising opportunities that are currently over- and under-valued:
Overvalued
Television Ads Do you really still watch commercials? The one major exception to this is Super Bowl ads which are absolutely undervalued. Yes, $5 million for a 30-second spot at the Super Bowl is a steal … as long as you can afford it in the first place.
Banner Ads If it's not native, nobody cares, and ad-blockers are everywhere. Yes, I still buy these, but in a very specific way (which I'll cover in a future article so follow me for updates!).
Mobile Ads Seen as more of a nuisance than anything else; it's rare to find a good implementation of mobile ads that deliver real value, not just accidental clicks that cost you money for no reason.
Snapchat Stories Ads This was just the wrong play and I can't see any value here yet. Too easy to skip, too disruptive, I just don't see these delivering the value Snapchat or their advertisers are hoping for.
Instagram Ads My own tests have yet to deliver equivalent value out of Instagram's ad platform. Instagram definitely sees this which is why they're beginning to force brands to switch to "Business accounts" which will allow them to curate feeds more like Facebook, forcing brands to pay to play in the future.
Twitter Ads Twitter is in trouble, and it remains to be seen if they can pull themselves out of it. Recent moves like buying the streaming rights to NFL games might help but as of yet, Twitter is simply too noisy for your ad to have a big enough impact to justify the cost for most small businesses. Mobile app downloads are probably the biggest caveat here.
Correctly Priced
Magazine Ads People still like reading and holding magazines. Millenials are increasingly looking for breaks from technology and a paid circulation is a paid circulation. Value is easy to calculate.
Newspaper Ads Depending on the newspaper and the type of business you run, some of the best advertising results I see today come from Newspaper ads.
Radio Ads It's hard to get people to pay for something they're used to getting for free, and the ad-supported model of local radio is still beating services like XM, Sirius, Spotify Premium, and Pandora, especially until more mobile data plans come with unlimited streaming options and/or self-driving cars cause a shift in drive-time habits from radio to streaming video (it will happen sooner than you think, trust me).
Trade Shows Assuming you pick the right shows for your business, it's difficult to get in front of that many targeted buyers for a face-to-face interaction via any other medium.
Billboards Billboards still work provided you pick the right location and you're selling the right product.
Undervalued
Facebook Ads They're starting to catch up to being valued properly but Facebook ads still offer one of the greatest advertising options that has ever existed, period.
Snapchat Geofilters This was a genius way for Snapchat to monetize and there's still a ton of unrealized value to be had for early adopters here.
Google AdWords You're inserting a link to your website in front of a person that's specifically looking for the product or service you offer, does it really get any easier than that?
Email Email services like MailChimp offer free tiers for small businesses, and extremely inexpensive options as you scale up. Worth every penny if you provide useful content that your subscribers really want to see in their inbox.
Direct Mail Surprised? That's why this is a great buy. As baseball great Willie Keeler famously put it, "Hit 'em where they ain't!" Better advice for marketing has never been given. If your competitors aren't doing it, that means the door's wide open to be the only one like you at the party. Sounds like value to me.
Content Marketing If you're reading this right now, it's because content marketing works, and it works well. It's a beast, but it's worth every minute and penny you have to put into making it successful.
Signage Great signage extends well beyond just your name on a building and can mean the difference between a customer entering your store or walking right by.
YouTube / Facebook Video Pre-roll video ads on YouTube are one of the only ways to actually get a user a view a video ad these days (see "overvalued TV ads" above). But even better is making the content of the video so good that people actually WANT to watch and share it.
Influencer Marketing Influencer marketing is the modern equivalent of Michael Jordan and Larry Bird playing a game of HORSE for a Big Mac and fries. It works and there's more opportunity than ever.
This is not an exhaustive list but it's a good start and should get you thinking about ways to capitalize on undervalued opportunities, regardless of where they exist.
So stop thinking about your marketing in terms of digital vs traditional, because those terms simply don't apply anymore.
I don't care how I reach you, as long as I reach you, and I'll continue to do that via digital, print, in person networking, or anything else I can for as long as those efforts produce results.